Application
Modernisation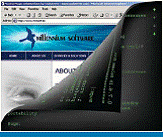 Huge value can be locked into your legacy applications.  Millennium Software can help you modernise your RPG applications and keep this value within your organisation.  You save money, maintain your functionality, and still get to leverage the skills you already have in-house.
There are many approaches, and we favour a few of them, but it is your own requirements that must drive your final decision.
One option we have is to transform RPG programs or applications originally written in ILE RPG or RPG/400 into native Microsoft  .NET applications.  Alternatively, you could develop a new front-end in LANSA, and keep using your RPG at the back end for as long as it makes sense.
Whether you simply want to re-host your applications on .NET and continue using your AS/400  database, or your goal is full-scale migration off the AS/400 platform, Millennium Software can do the work for you.  (Whether you have an IBM System i, AS/400,  iSeries, or i5,  it's all the same to us.)
You can now convert existing green screens into exciting, new web applications using Microsoft .NET ASP or LANSA.  Screens can be enhanced to improve  appearance, layout and even content.  You can leverage the many man-years of effort embedded in your code.  No screen-scraping is involved - your  applications become real web apps.
Your applications have served you well for years.  If you decide they still have real business value, we can help extend their life, move them to a new platform, and realise their value in this fast-changing world.  Then add even more value for your business as required.
So you can:
Protect your investment in people - your existing staff can very quickly and easily become familiar  with the tools, and maintain your applications into the future.
Increase user and management acceptance of your applications.
Expand the possibilities  for your application to serve your business with new technology.
Depending on the solution, you could continue to use RPG in a .NET environment, or, begin to use other languages, such as C#.NET, which is fast becoming an industry standard language, to future-proof your applications.
Your new application is flexible, highly maintainable and uses standard technologies and development techniques that can be maintained by any developer. Once migrated, your screens can be extended and enhanced to dramatically improve the user experience they offer. 
Beyond making cosmetic changes, your migrated interactive applications can have substantial functionality added - including such features as connecting them to business partners via Web services and adding easy powerful integration with Office applications such as Excel.
Your database and your existing batch programs can stay on your AS/400 if required.  This lets you leverage the System i for its known strengths, and lets you exploit the power of the Web browser to improve the look and feel, and functionality, of your existing applications.  Depending on the solution you choose, you could also migrate the database to Microsoft SQL Server™ immediately or later.
The modernisation work can be done as a turn-key service.  You provide us with your RPG applications, we return an updated Web application, ready to deploy and running against your existing database. 
You have many options, and we will be ready to help you choose the best fit for your circumstances.  You may find that keeping your RPG is the best option for you, and we can help maintain and upgrade that for you as required.
Contact us today to discuss your modernisation project.